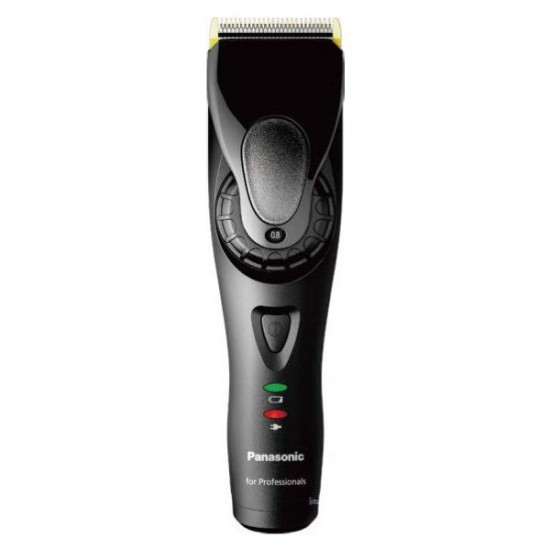 Panasonic ER-HGP82 Professional Hair Clipper
The new top Japanese rechargeable professional hair clipper Panasonic ER-HGP82 for dry use. This is the clipper that replaces the Panasonic ER-GP80.
It has a new linear motor with stability control for ease of use and ideal result, like the ER-GP80.
The ER-HGP82 makes the difference through its design, which ensures a top result without irritation and with absolute detail even in very difficult places (special moving X-taper blade, with DLC coating where it protects the skin from irritations with the titanium blade and from high heating).
A charging base is provided and there is a charging indicator light. It can also be used with an international power cable (110 - 240V). Available in glossy black.
It has exactly the same ergonomic design and appearance of the ER-GP80 and with all the technical features of the ER-GP80 (50 'autonomy and with 100% improvements in the motor and in the special technology so that the cutter does not heat up in the continuous use and in the most intensive use rates.
In conclusion, the ER-HGP82K803 with its ergonomic design and its thin line will be the ultimate tool for barbershops.
Finally, the special innovation of the X-taper cutters has been adapted to all older models but also to Panasonic ER-HGP82 Professional Hair Clipper
Power supply
Operating voltage: 100-240V
Rechargeable
Cutter: X-Taper Blade
Charging time: 1 hour
Operating time: 50 minutes
Cable and wireless operation
Anti-heat function
Charging level indicator
Characteristics
Motor (rpm): 10000 rpm
Cutting depth: 0.8mm -2mm
Cutting depth selector
Beard treatment
Dry operation
Country of origin: Japan
Heads: Titanium (X-Taper)
Generally
Dimensions (LxWxH): 177 x 47 x 48 mm
Weight: 245 gr
Package Contents
Cutting blade 6 combs: 3, 4, 6, 9, 12, 15 mm
Oil and brush
Carrying bag
1 year warranty
* The machine cutter is not covered by the warranty.

Attributes
TYPE
Hair Clipper
Stock:

In Stock

Model:

BH-PAN82

Dimensions:

177.00mm x 47.00mm x 48.00mm

Panasonic